International shipping plan / No monthly fee!
International shipping from Tokyo and OSAKA address
Benefits
Identification submission is not required. Forwarding address must be located in overseas.
※Please note only parcel can be forwarded but not mail.
Changing preference setting will authorize us to receive mail too. In the case ID submission is mandatory.
No hustle paperwork. Enjoy your new address in Tokyo or Osaka instantly!
No monthly fee & low shipping cost!1shipment cost starts from 420yen.
※We consolidate received item and forward it without notice.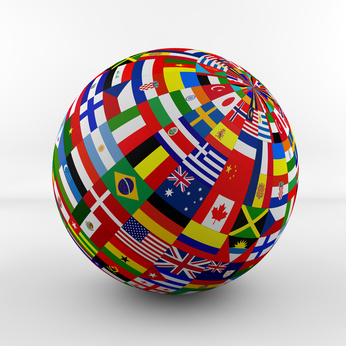 Made in Japan products are popular worldwide. Those below are our recommendation!
Publications – Subscription is popular!
Pharmaceutical products. – Why not to try trustworthy product?
Household electrical appliances – Get comfy with best performance and most up to date features.
We ship 'Omotenashi' to your desired destination within the day.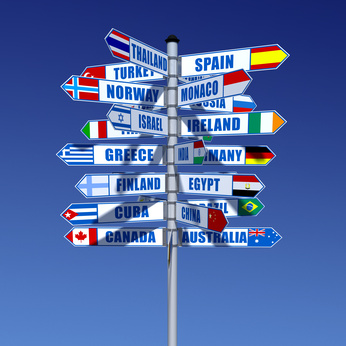 How it works
Easy registration・・Register now and enjoy the benefits instantly!
Worried about monthly cost? There is no monthly fee so you can use us anytime you want at your conveniences.

Please note we cannot forward mail. (Join normal plan & identification submission is required.) It's supported by P.O.Box basic plan or Free plan.

Online shopping
Having you MyLetter.jp address will enhance online shopping life!
Get your MyLetter.jp address
Purchase your item and send it to your MyLetter.jp address.
We received your package on behalf.
(Myletter.jp) Make shipping payment.
We forward your package. It's that easy and safe!
Check your package status at MYBOX.

COD is no accepted to mail your package to your MyLetter.jp address.
Confirm you package status
Login to MyLetter.jp
Package status (Arrival, Storage and etc.)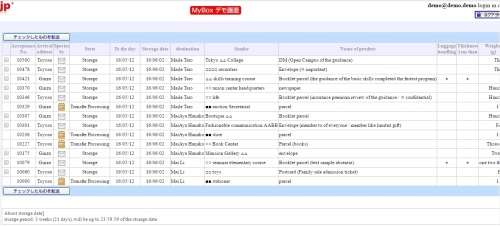 Packages in forwarding procedure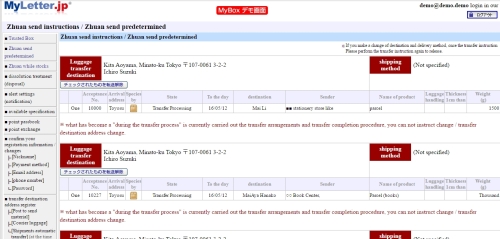 Delivery tracking

※ Google translate was used to translate the japanese text in these screenshots into English.